How to take photos and Floorplan for the property
A property's photos are the first thing that will influence a potential applicant - buyers, tenants, vendors, and landlords. In order to attract and appeal to potential buyers, the property needs to look desirable and the best possible images to be taken is a photographer's job
Never list a property without photos. The first two weeks are when a new listing will get the most interest, as it is fresh to market and will be sent out in instant alert emails 
Launch the property with at least 8 photos, to give searchers a flavor for every room and feature of the property
Photographs must be horizontal (landscape) instead of vertical
Take exterior photos on a clear, bright day 
Make sure interior photos are clutter-free and capture the brightness and size of rooms
Upload photos at the correct size. Don't upload photos smaller than 1024px wide by 683px high (as they'll look blurry), or in portrait format
Lead with your best/unique image - use a photo that showcases your property's best /unique feature 
Change your first photo at least every 2 weeks for another chance to grab the attention of regular searchers 
Make sure you show the different aspects of the property in first 2-3 photos 
Stand out with Featured Property and Premium Listing - These products let you show off more photos on a search results page, giving you more chances to attract attention. On average, a Featured Property generates twice as many detailed views as similar listings and a Premium Listing gets 20% more views 
Photography from mobile phone
Make sure you have an advance high-end camera on the mobile you are going to use for photography
Never zoom to take a photograph, it crops the photo and makes it grainy and pixelated. Instead, take a closer photo
While taking the photographs make sure there is no shaking. Use a tripod to avoid this
Make sure to take the photos from the corner
Also, there should be a proper light and use flash wherever necessary
Make sure you check the white balance of your photos to make them more consistent and pleasing
Photographs must be horizontal (landscape) instead of vertical - use the panoramic photo setting to create a wide-format image
| Property with photo and floor plan | Property without photo and floor plan |
| --- | --- |
| | |
Floor Plans
Floor plan supports the photos (images) taken and helps to visualize the property before physically entering into it and is a skeleton of a property. They have proved to be invaluable when selling a property. 80% of vendors think a floor plan is essential or very useful when selling their home, along with 60% of landlords. The floor plan will give them a good sense of structure of your house - hence it is very important to upload the floor plan of your property for better understanding. Floor plans give a perspective, provide a reality check, do not lie, inspire change, are more definitive and can bring an unseen property to life. It is of significance here to understand that the property needs to have an accurate floor plan for a better understanding of the property and having better chances of attracting potential buyers. Hence, it is necessary that floor plans are made available to them and thereby increase the percentage of viewing and better prospects of finding good buyers. Yes, indeed a floor plan represents a link between imaginary perception from visual pictures and a real layout of the house.
When looking at a property, the floor plan is one of the most important visual aids. Where a professional photographer takes a spread of beautiful photos to give emotional impact, it is with the floor plan that the buyer can please their logic and intellect. Apart from the detailed information and the photographs, it is the floor plan that describes the dimensions, detailed description and layout of the entire property. This gives the buyers a detailed view and helps them assess their needs
Load floor plans separately from your property images. (If you upload a floor plan as an image, it won't appear in the floor plan tab and the search results won't show that the listing includes a floor plan)
Include all room dimensions and the total size of the property to help applicants visualize the space
Upload the floor plan in the required optimal size
Having all floors in one image will give a good visual impression to the prospective buyers(s)
If you don't have a full property measurement, you can still give a layout so that a potential buyer can have a visual impression of the layout of the property e.g. location of the kitchen, bedroom location and location of other rooms etc.
A rough floor plan sketch
Provide us (99home) with a rough floor plan and our team will convert it into a 2D floor plan. Example shown below: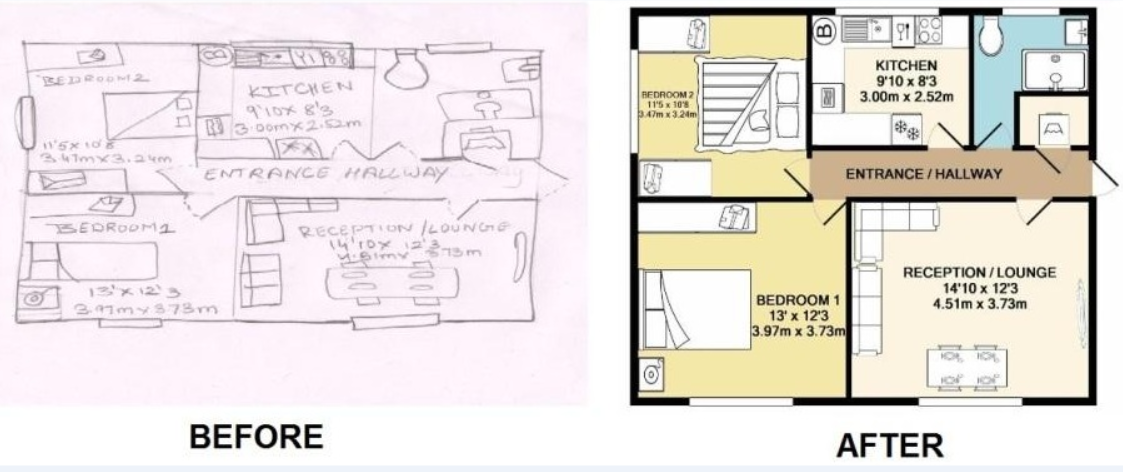 Free property online valuation Check Here
Property buyer and seller checklist Check here
*Disclaimer: Some contents are from Rightmove and Zoopla