Sell Your House Online
Buying and selling of houses and other properties are one of the biggest financial decisions anyone can ever make. However, the processes involved are very complex and may not be easily understood without the services of a qualified and experienced real estate agent, who handles the dirty work.
A real estate agent must be able to convince a prospective buyer or seller, and be ready to go an extra mile to ensure a great outcome. In addition, his familiarity with his local market will help him in choosing the right location that best fit the needs and budget of his clients.
The real estate industry is growing and things have really changed from the way they were!
99home made house selling very easy
Currently, there is a huge increase in the demand for buyers and sellers to research properties online. This means offline real estate marketing may not provide the desired solution. On the other hand, online marketing methods provide quicker, easier and unique solutions to the problems of buyers and sellers.
The rise in the use of Internet-enabled devices has made it much easier to access information from any part of the country with just a few clicks. Brilliant real estate agents are now incorporating digital marketing and Internet communication when dealing with clients. 99home Ltd (www.99home.co.uk) has been launched to make the process of finding, buying, renting or selling houses and properties, easy and hitch-free for people all over the United Kingdom.
99home Ltd has launched three house selling packages.
Standard - This package will cost only £99 if a seller knows how to use the internet, can host house viewings and have a good knowledge about property sale process.
Combo - This is a hybrid model of estate agency, mix of an online and offline services. It will cost £599 to a property seller. Here, 99home do everything except viewing. Property owners will have to arrange their own viewing according to their suitable time.
High Street - Old traditional style high street agency service but the online price! In £1099 you will get a complete high street agency service which includes hosted viewings.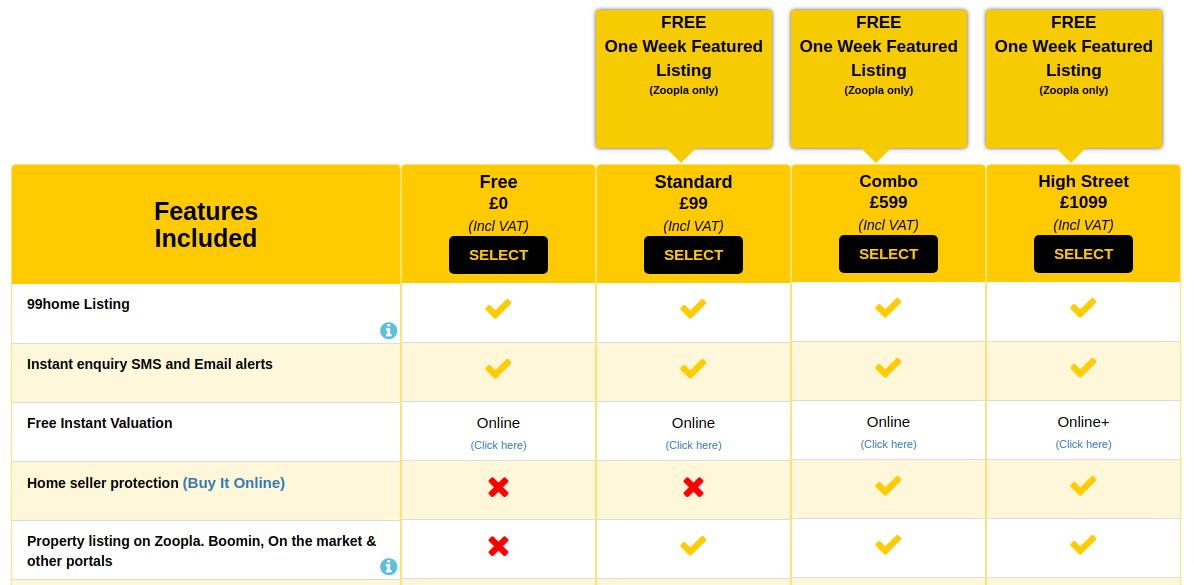 99home: An online estate agent, how does it work?
The services offered by online estate agents are almost like those of high street agents. As of now, online estate agents only take a small amount of the estate agency market, but this is likely to increase. At this moment, more than 90% people are still using high street agency service.
If we define Online Estate Agents services in three parts then that's how they look like.
Services offered by 99home
Basic Service
Hybrid Service
Full High Street Service

Online Valuation
Property listing on Zoopla
Assistance with viewings
Feedbacks




(You will be taking your own pictures, floorplan, no "For Sale" board, conduct viewings, negotiating with buyers, preparing all the documents for solicitors and buyers.)

Valuation
Photography & floor planning
"For sale" board
Property listing on Zoopla
Sales progression and negotiation
Assistance with viewings
Feedbacks

(You will have to conduct viewings, maybe preparing some documents.)

Valuation
Price guide
Photography & floor planning
"For sale" board
Property listing on Zoopla
Sales progression and negotiation
Paperwork
Accompanied / Assistance with viewings
Feedbacks




(Apart from signatures and financial transactions to 99home and solicitors, you are not doing anything.)
Advantages with 99home
Fees: Most of the time, using an online estate agent will be cheaper than using a high street agent as online estate agent charges a flat fee. The more expensive your home is, the more you stand to save if they charge a flat fee.
Convenience: Most of the times it is easier to get hold of online estate agents. Their call centres are open during weekends and evenings which makes is easier to get your queries resolved outside of working hours.
Feedback: Some online agent has very robust system which allows buyers to book and give feedbacks as well as offers.
Transparency: Because of online platform, you can check all the progress of your property online anytime.
Freedom to use multiple agents: If you wish you can instruct other agents too as there are no contract periods.
Flexibility: You can alter the available packages as per your requirements and you can track the progress online.
Valuation: You can use online valuation tools like Online Valuation Tool and can get a rough idea of your property.
Marketing: 99home promise to market your home until it's sold.
Why 99home?
We at 99home.co.uk take pride in offering the most competitive pricing packages to Sell or Let your property. Your property will be listed on all major online real estate portals. Our team of real estate professionals have more than 25 years' experience and are readily available at your service and provides you all the necessary support.
Here are just a few reasons why you might want to instruct us:
Very reasonable prices, affordable to the pocket of all.
Simple process. It's the matter of few minutes only to create your free account on our cloud-based online website. You can upload your property whatever it's for sale or rental in few minutes only.
Give an opportunity to serve, a trust will be built automatically.
Queries answered immediately.
We will get you the maximum number of enquiries.
A proactive team is provided to render, what you have imagined.
No hidden fee or ties.
You stay in total control by using our online tool.
Manage your own property according to your comfortability.
An online platform which is available 24/7.
Advertisement of your property at all major property portals like Zoopla, PrimeLocation as well as our own site.
Observant professionals, we keep our eyes and ears wide open for better ways to accomplish. We are not afraid to ask questions, do research, and accomplish the task with appropriate solutions.
Obsessed with learning and improvising. We will just go through the reviews and feedbacks and be Impeccable.
Strive for excellence without being perfectionists and comparing with the others.
Upon your request, we can assist you with property related service like Mortgage, Conveying, EPC etc.
If you have any questions and would like to speak with someone at 99home you can email us at hello@99home.co.uk or call us on 0203 5000 999.